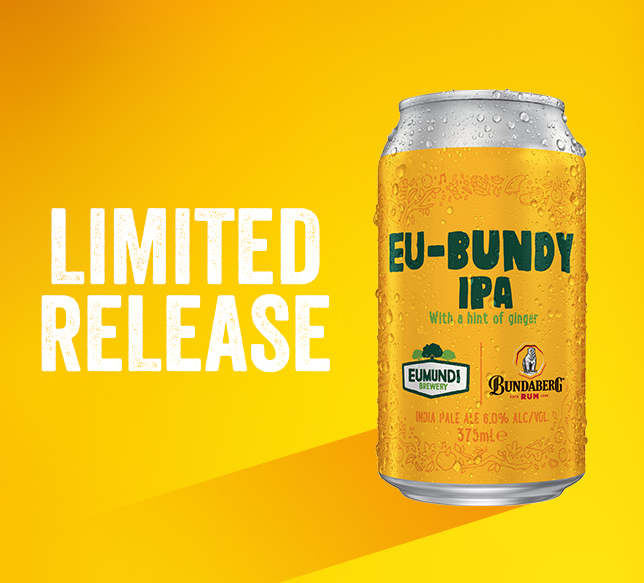 INTRODUCING EU-BUNDY IPA
We've teamed up with our friends at the Eumundi Brewery to brew something special: Eu-Bundy IPA. A West Coast IPA balanced perfectly with a hearty helping of Bundaberg Small Batch Spiced Rum, topped off with a hint of local ginger, this is one tasty brew that needs to be experienced to be believed.
The limited edition Eu-Bundy IPA will be available at our Distillery Store and the Imperial Hotel in Eumundi from Sunday 15th November. This is a limited release and only 250 cases of cans and 50 kegs are being crafted, so purchasing limits will apply.
We are incredibly proud and excited by this collaboration, and we can't wait to hear what Queensland thinks!
FREQUENTLY ASKED QUESTIONS
Q: When and where can I get my hands on it?
Eu-Bundy IPA cans will be on sale from the Bundaberg Rum Distillery and Imperial Hotel in Eumundi from 10.00am Sunday 15th November with an RRP of $28.99 per 6 pack.

Q: What are the purchasing limits?
The Bundaberg Rum Distillery will be limiting sales to one 6 pack per adult per day whilst stocks last.

Q: Can I order over the phone or on your website and have it shipped?
No. Eu-Bundy IPA can sales at the Bundaberg Rum Distillery can only be made in the Distillery Store in person from 10.00am Sunday 15th November.

Q: What is the ABV?
Eu-Bundy IPA is 6.0% ABV.

Q: Is there real rum in the beer?
Yes. Bundaberg Small Batch Spiced Rum has been used in the production of Eu-Bundy IPA.

Q: Will you make more if it sells out quickly?
At this stage Eu-Bundy is a one-off collaboration and there are no plans for further releases. That being said, we will always listen to feedback from our fans and if we do decide to make more, we will announce it first via our social channels.